Brixton Forged TR06 Carbon+
Designed for the true super-car enthusiast, the Brixton Forged Carbon+ Series utilizes the highest quality APP 6061-T6 Aerospace grade forged aluminum faces combined with the ultralight Dymag Boxstrom BX-F carbon fiber barrel and RAU Titanium assembly hardware.
Typically 25% lighter than its aluminum counterpart, the Carbon+ Series provides the versatility of a multi-piece wheel while remaining the lightest weight, track ready wheel in our lineup; specifically designed and tested for super-cars and hyper-cars alike.
Cast Aluminum Weight (15kg - based on 20x9.0*)
Forged Aluminum Weight (12kg - 20% Reduction)
Dymag Carbon Fiber Weight (9kg - 40% Reduction)

PRODUCT

Brixton Forged Carbon+™ (Dymag UK Collaboration)

HARDWARE

Titanium assembly hardware is standard on Carbon+™ wheels
CONSTRUCTION

6061-T6 Forged Aluminum Center mounted in Dymag™ Carbon Barrels

TESTING

Tested to 750kg min. load rating. Meets TÜV / SAE / JWL / VIA standards
TECHNOLOGY

Latest Low-Density Composite with Closed-Mold Vacuum Resin Transfer

DIAMETERS

Available in 18″ | 19″ | 20″ | 21″ | 22″ | 23″ (Various widths)
BARREL FINISH OPTIONS

Available in Forged or Twill Carbon Options (Gloss or Satin Clear)

ULTRA-LIGHTWEIGHT

25% Lighter compared to Forged Aluminum / 40% compared to Cast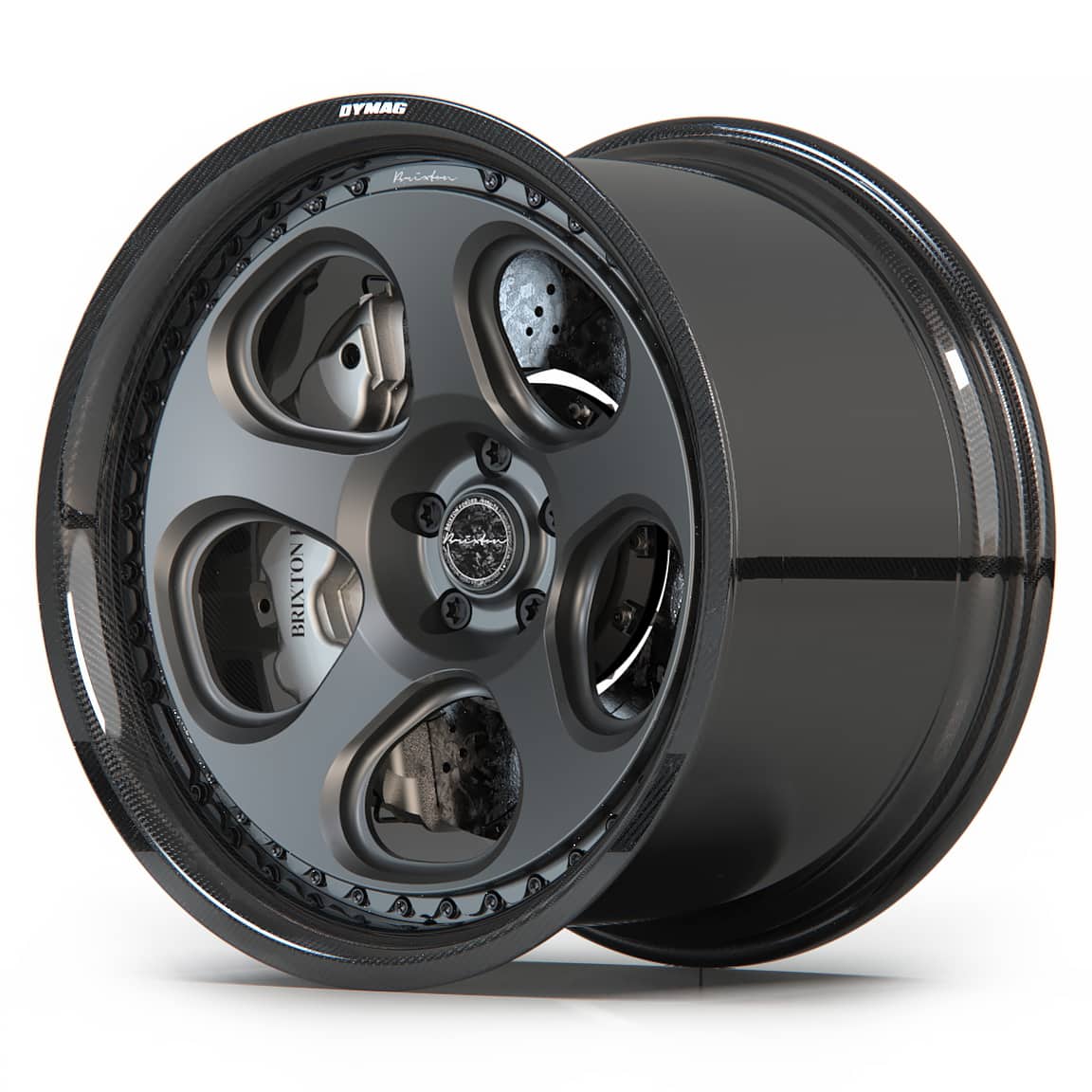 Brixton Forged TR06 Carbon+™
(Standard 5-Lug PCD)
2-Piece Lightweight Carbon Fiber
18″ | 19″ | 20″ | 21″ | 22″| 23″

Click to view all finish options below: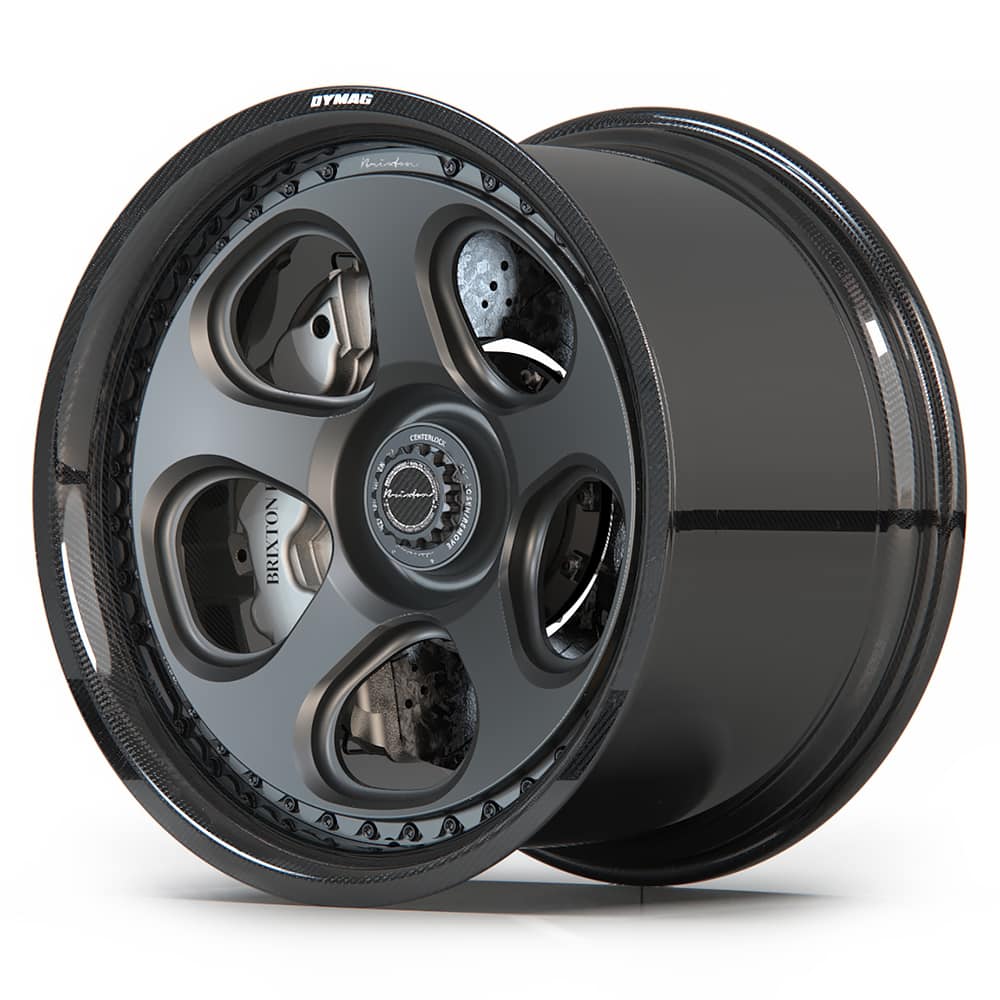 Brixton Forged TR06 Carbon+™
(Center-Lock)
2-Piece Lightweight Carbon Fiber
18″ | 19″ | 20″ | 21″ | 22″| 23″

Click to view all finish options below:

Finishing Options
With over 6000+ powder-coat and Cerakote options to choose from, we have hand selected our proprietary solid opaque, textured, and premium transparent clear options, which are available throughout our forged wheel collections. To view the full list of finish options, please the button below. For custom finishes, please contact our sales team via the contact page.
2-Piece Ultra-Lightweight Dymag Carbon Fiber / Forged Aluminum
Available in: 18" | 19" | 20" | 21" | 22" | 23"
Built-to-Order Per Application / Custom CNC Machined
Profile: Mid & Deep-Concave (Application Dependent)
6061-T6 Aerospace Grade Forged Aluminum Face for High Strength-to-Weight Ratio
Standard Backpad Pocketing & Water Channeling
Minimize Unsprung Mass / Rotational Inertia for Maximum Performance and Handling
OEM TPMS Compatible
Lifetime Structural Production Warranty & 2-Year Finish Warranty
Center-Lock Options Available
Brixton Forged wheel sets are custom-built for your vehicle with personalized fitment and finish options.
The easiest way to order is to contact our Sales Representatives during regular business hours (Mon-Fri 9am-5pm PST) at +1-888-397-6601, or email our Team at sales@brixtonforged.com. Alternatively, you can make an inquiry with a Brixton Forged Authorized Dealer.
During evenings and weekends, please fill out the Sales Inquiry form located on our contact page or "Submit Price Request" button above. Once we receive your inquiry, you will be contacted by one of our Sales Representatives during regular business hours. Our Sales Representatives will be happy to assist you with all of the details and connect you with a Brixton Forged Authorized Dealer in your area that can process the order and assist with tire options / mount & balance.
During the process, we will be happy to assist with any questions you have regarding your order to ensure a smooth experience.
If your wheels are damaged, please contact our Production Department at +1-888-397-6601 or email office@brixtonforged.com. We will have you submit an online RMA form and be able to assist once all information and photos are provided.
Any non-certified Brixton Forged shop handling service or repair procedures will void your structural and finish warranties. We advice against third party companies fixing damaged wheels. Concerns surrounding safety issues can arise with improper servicing or refinishing of any wheel such as excessive stripping / powder coating temperatures, incorrect drilling, incorrect rim parts, sealing procedures, and hardware issues.
Phone:
Toll Free +1 (888) 397 6601
WhatsApp:
Brixton Forged Sales +1 (310) 290 4925
Center Cap Options: Standard 5-Lug PCD
Brixton Forged™ original center-cap options are used for all standard 5 and 6-lug PCD vehicle applications. Choose from Satin Piano Black, Classic Twill Carbon, or Forged Gloss Carbon.
Note: Does not fit any PCD lower than 100mm. OEM center cap adapters may be required. Additional costs apply.
Center Cap Options: Center-Lock
Like all of our forged wheel line, the Brixton Forged TR-Series is available in center-lock based on vehicle compatibility. OEM Porsche & Lamborghini center-lock badge replacement options available for all CL vehicle applications.
Choose from Standard Weaved Carbon or Forged Carbon.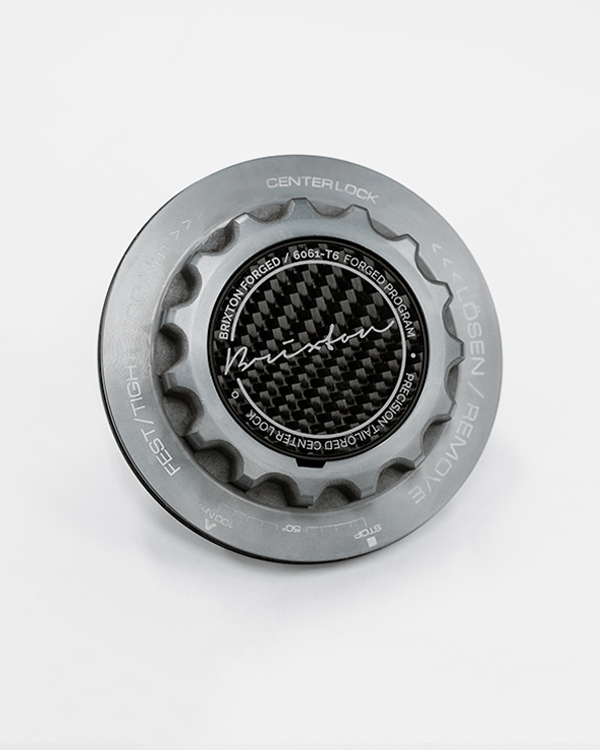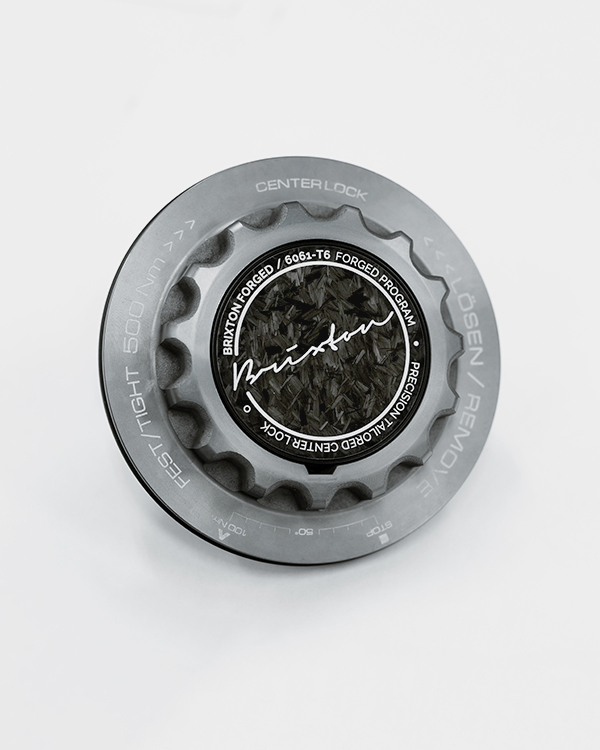 Titanium Bolt Options: Grade 6AL4V
The Brixton Forged 20-piece Titanium Lug Bolt set is specified as a M14x1.5 thread with a 60 degree "cone seat" also known a a conical or acorn seat. These lug bolts have a 28mm shank length, measured from the base of the ball cup to the end of the threads. Manufactured from aerospace grade 6AL4V Titanium, these titanium lug bolts will not corrode or rust and offer a significant weight savings over steel lug bolts while giving a very sporty and aggressive look. Titanium is 50% lighter than steel, yet considerably stronger. Titanium is also resistant to the constant heating and cooling cycles common to high performance wheels that otherwise destroy steel studs and bolts. Rolled threads for superior fatigue resistance. These lug bolts have a TORX 70 head which weighs 4 grams less than the hex head.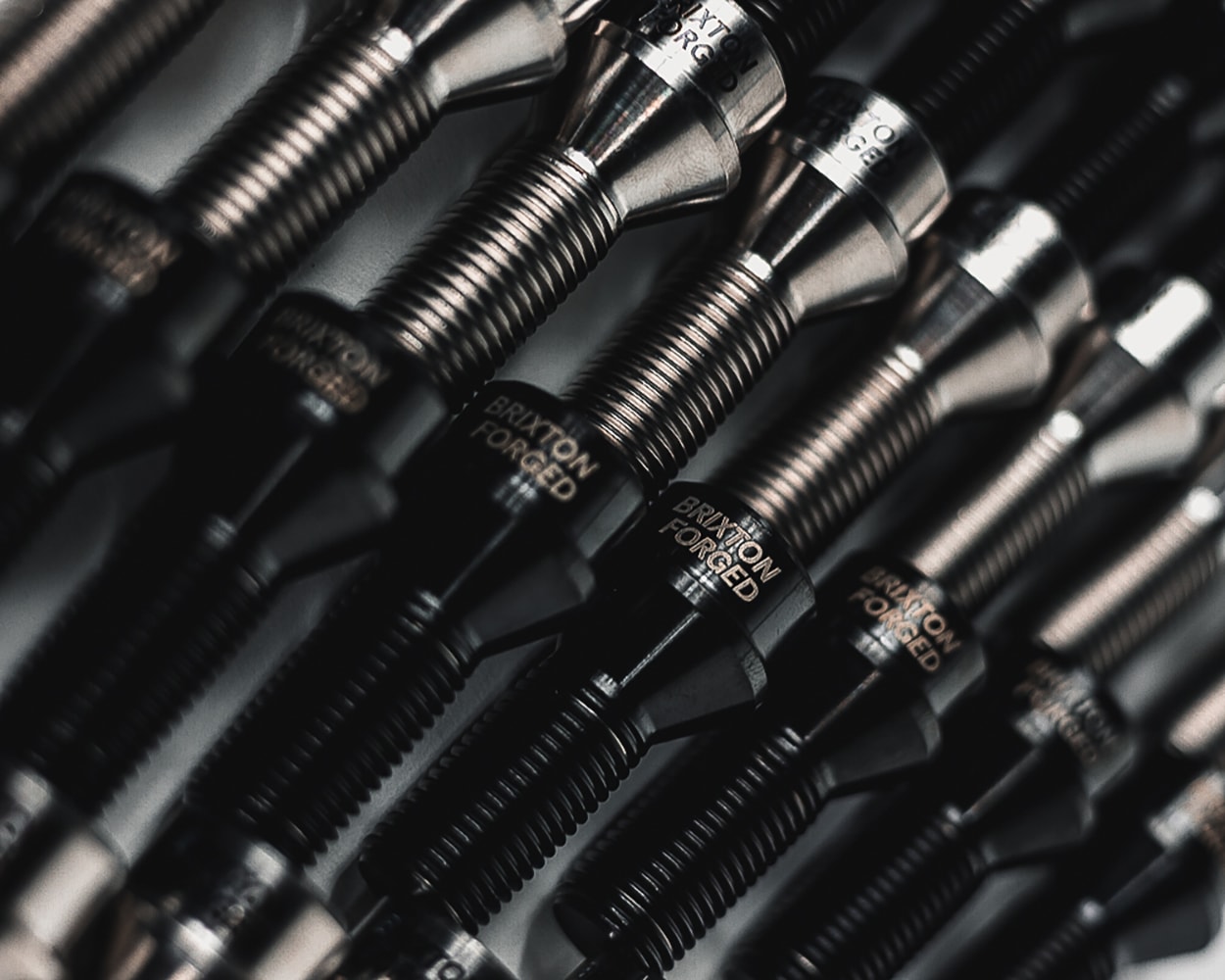 What makes our Design Concept unique?
You can't buy good taste or engineer style in a lab. True class is like true love, you know it when you see it. The next time you look at a Brixton Forged wheel, you'll know exactly what we mean.
Perhaps it's the extensive research and development we do, or our deep understanding of automotive styling and how the latest materials perform at the limit. Maybe it's our tireless pursuit of weight savings and strength gains. Or maybe, it's our willingness to rip up the rulebook and redefine what a wheel can be. It's always respecting what's gone before, but more importantly, it has to predict what's yet to come. It has to capture the imagination as it sets the stage for the future of design. Every wheel we make is an engineering marvel, but it's also a work of art. Part science, part magic, all racing spirit.
brixtonforged.com

Merchandise
Shop Brixton Forged™ Merchandise
Made right here in Los Angeles, premium heavyweight Brixton Forged™ Pullovers, Tees, Jackets, Hats & more. Produced and made with love in California. Shop from our new Brixton Forged™ collection which utilizes the highest quality hand-made garments and 5 panel hats. Keep an eye out for rotating collectables, including prints and stationaries.
brixtonforged.com

Exhaust
Brixton Forged™ T304 Exhaust: Direct Bolt-On Fitment
Brixton Forged™ exhaust kits are made locally in California from the highest quality T304 Stainless Steel. Each system features Argon-back-purged TIG welded seams and premium Cerakote thermal finish to reduce radiated heat and provide the highest protection against corrosion and discoloration. T304 Stainless Steel is a more suitable and reliable material over titanium. While titanium systems are generally lighter, they tend to produce more heat throughout the heat-cycle and are prone to developing stress cracks.
Leveraging the expertise and capabilities of our partners, we utilize the latest 3D scanning, CAD designing, rapid prototyping, CNC machining, and 3D printing technologies to reverse engineer and find the right design and manufacturing solutions for our exhaust line. Every Brixton Forged™ exhaust kit begins with a comprehensive 3D scan of the vehicle, utilizing state-of-the-art 3D laser scanners to ensure optimal fitment.
brixtonforged.com